This is a little bit late but still worth the read.

After a traumatic flight to Cagayan de Oro (CDO), the nine days that I stayed in the Bukid over the holidays turned out to be was great! I came back to Manila, five pounds bigger but well rested and happy.

I left for Bukidnon on December 23. As usual, my 9:30 Cebu Pacific flight was delayed. The plane took off at around 10:20 a.m. We left Manila with a very good weather. But 30 minutes before we are about to land in CDO, it was already cloudy. I started to worry. Back in December 31, 2001, our plane was forced to land in Mactan because it was impossible to land in CDO due to poor weather condition. At that time, I ended up celebrating my New Year's Eve on board Cebu Ferries.

Located 187 meters above sea level, a slight change in the weather would cause the visibility of the CDO's airport to become poor. Our plane attempted to land twice but only to end up drastically "climbing" since the pilot could not see the runway. We were forced to land in Mactan.

While in Mactan, we were just told to remain in our seats to wait for some update regarding the weather in CDO. Reporting an improvement of the weather (visibility is already at 5 km from 2 km), we took off at Mactan at around 2 p.m. Once again the plane attempted to land only to "climb" again. The pilot told us that we will stay on air for 20-30 minutes on air. On its fourth attempt, the plane finally was able to land. As soon as the tires touch the runway, every passenger burst into an applause and was cheering everybody. I cried and so was my seatmate. It was such a relief! (back in the 90s, a classmate in grade school was one of the casualties when Cebu Pacific flight to CDO crashed in somewhere Claveria, so you can just imagine my fear).



We arrived CDO almost 4 p.m. already (from an 11:30 a.m. expected time of arrival). I headed straight to Agora Terminal to take an aircon bus to Valencia, Bukidnon where my mother's driver was waiting for me.

Christmas eve I spent in house in Don Carlos with my mom and my two younger sister. Earlier, I sent a text message to Dyames telling him how I feel weird while buying some ingredients for a salad in the Public Market (there is no supermarket in Don Carlos). People were staring at me. I was a new face to them and in the sea of brown and dark complexion people, I with a very fair complexion would probably be an oddity. I asked Dyames, "should I wave at this people like a celebrity?" But sanity caught up with me and instead of making a scene I was just smiling and told my sister to hurry so that I can go home.

After going to Church on Christmas Day, we went straight to Malaybalay to meet my sister and her Kids. My mom is also meeting her brothers and sisters for some family business (they need to discuss where to place my Tito who is currently admitted to a mental facility in one of the towns in Bukidnon).

My mother and Joanne (our youngest) left for Don Carlos the following day, I and Beulah (my other younger sister) stayed in Malaybalay until the 27th. We stayed at my Ate's place. Dec. 26 and 27 I spent playing with my niece and nephew, watching TV and in the afternoon tried to lift some weights in a small gym which is attached to a coffee shop selling all the sweets and pastries you need to avoid (what a nice way to work out!). My mom picked us up on the 27th.

December 28, I joined my mother and some of her office staff to do some Charity work in Sinuda, Quezon, Bukidnon. This is a place near the Bukidnon-Davao boundary. We distributed gifts to kids of the members of the Matigsalud tribe. These are the kids who would stand beside the road and would extend their hand at some passing vehicles hoping the passengers would hand over some food stuff or money to them (they live just beside by the now well-paved Bukidnon-Davao road).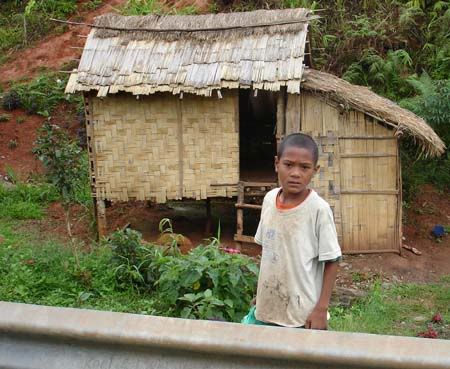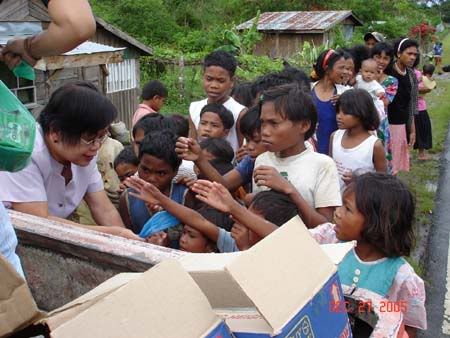 My Mom (in lavender) handing out the packed goodies to the Matigsalud kids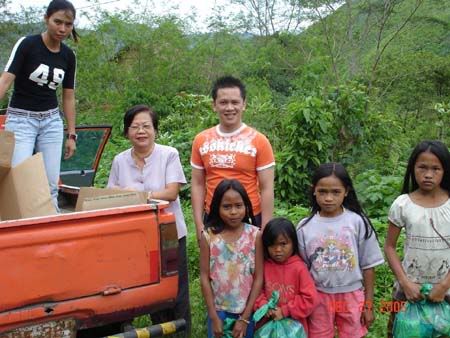 I took time, of course, to pose with the kids, my mom beside me.

I was at first hesitant to go since all I really want to do was to sleep and catch up with things I missed on TV. But since going with my mom would make her happy, I went. I did not regret it. Just seeing the happy smiles of these kids is enough to make my day.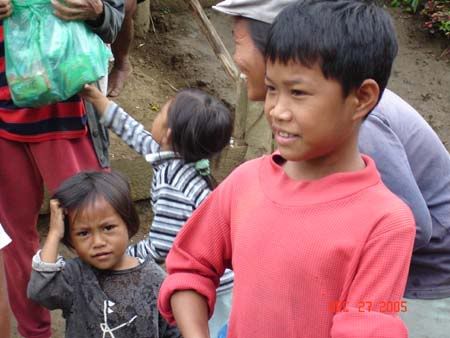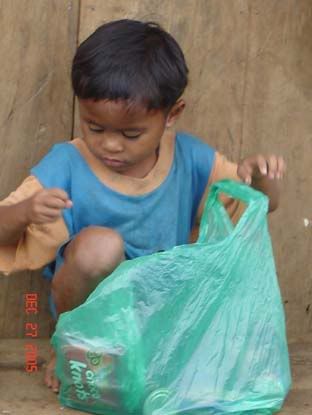 And as an added bunos, I've got to enjoy the sceneries and the fresh mountain air.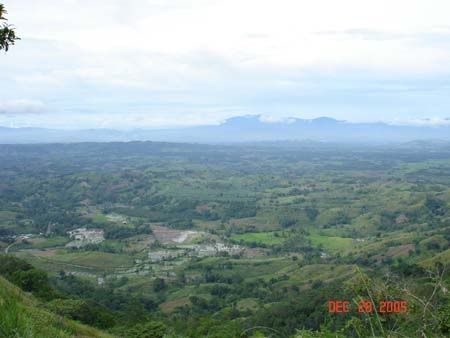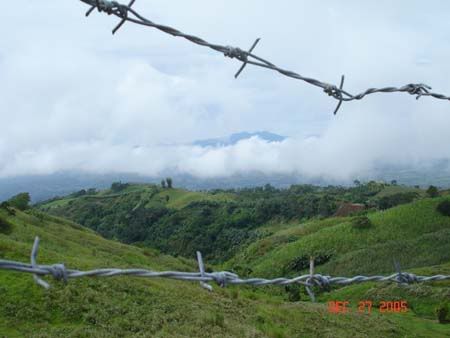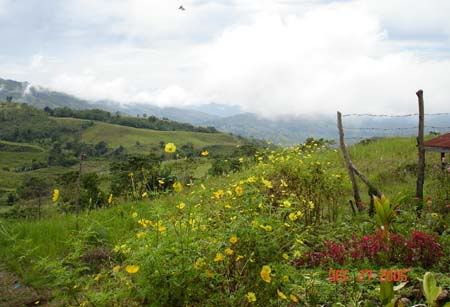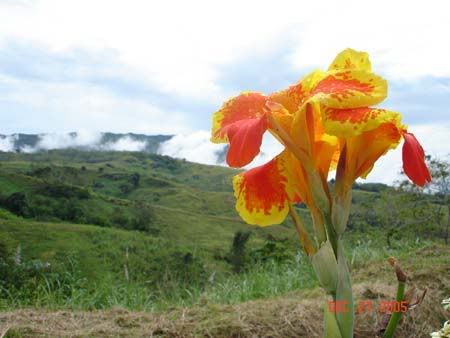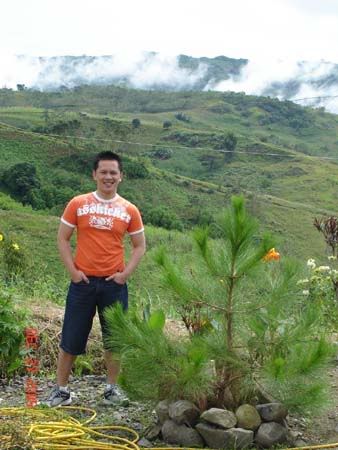 Saw the fog at my back? its 12 noon already with the Sun up, but the fog is still there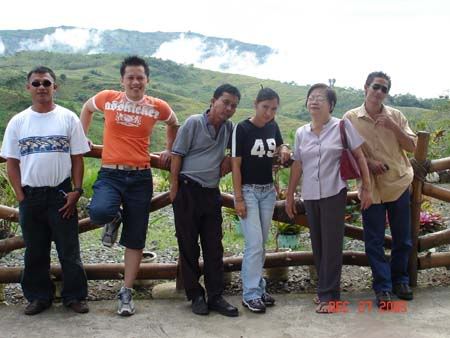 With my Mom's staff and officemates, taking a pose after having lunch

December 29 I went back to Malaybalay to meet my high school classmates. Over two bottles of tequila, red horse and sinugbang baboy (pork) and tuna, lechon manok and kinilaw na tuna, we reminisced the good ole days (as usual), laugh at the crazy things we did before, update each other about what we are doing now and had a good time.

Since the girls didn't make it this year(two of them are pregnant with their nth kid), it was an all boys party. It was really nice seeing my classmates once again. I was happy to see them matured and show concern for each other. Yes, the banters (I love the word kantyaw than its English counterpart) are still there, but you could actually see that they have grown (most of us are turning 30 this year).

Russel, the naughtiest of our classmates even surprised me. Since by 11 p.m. ( we started at around 7 p.m.) I was a bit sleepy already, they lit me lie down in hammock (we were having bonfire at the backyard of my classmate Paul). It was really cold at night in Malaybalay (high altitude and pine trees), I was waken up from my short nap feeling somebody was put some sheets on me. I was surprised to find Russel actually removed his sweater and used it to cover me from the cold. I actually saw his face few inches from my face and smiling at me. For the record, he is straight but that was really sweet of him to do such thing.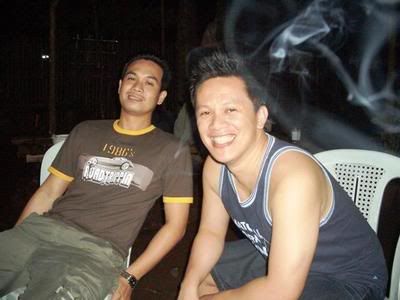 Me and Earl, no that smoke is not an effect, Paul was smoking when he took the picture.

The 4-Faith boys, Edward, Me, Earl, Russel, Rico, (seated) Paul and Ronnie.

December 30, we were in Don Carlos again for my Grandfather's death anniversary.

December 31 we went back to Malaybalay for my nephew's dedication. Joseph Edgar is my Ate's second child. I was one of the Ninongs. The Edgar in his name was a tribute to my late father Edgardo.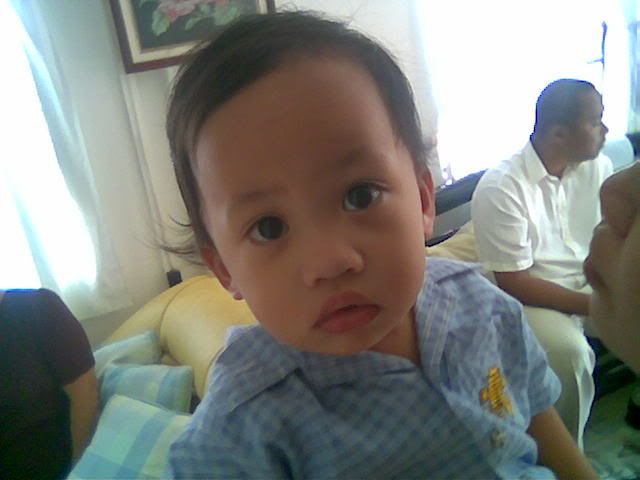 My cute nephew Joseph Edgar.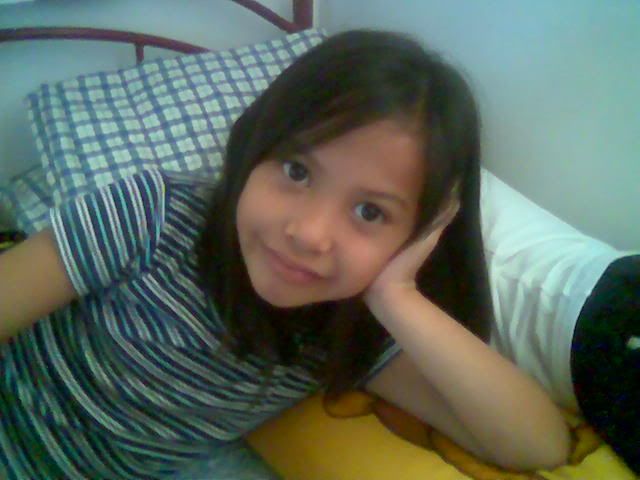 Joseph's 8 year old ate Roxanne. This girl is smart.

After many years, we celebrated New Year with our family complete. My sisters, my niece and nephew, my mom and Rodolfo (father of my Ate's kids) celebrated new year together in my Ate's house. I was so happy and I so was my Mom whose joy really is seeing her kids and grandkids complete. We did not prepare anything for new year, there were already plenty of food left from my nephew's dedication. With some cakes and wine, we welcomed the year inside the house and just watching the neighbors lit those firecrackers.

I was really enjoying my vacation, but then some good thing has to end. And so by January 2, I left for CDO. The following day, I took the 7 a.m. Cebu Pacific to manila. At this time, the weather was good.